I-League: Minerva Punjab vs Indian Arrows- 5 players to watch out for
Hero I-League table toppers Minerva Punjab will host Indian Arrows in their own backyard Guru Nanak Stadium in Ludhiana, Punjab tomorrow (December 18, 2017).
It will be a tough test for the young Indian Arrows side comprising of Indian U-17 World Cup squad and Indian U-19 team members were on the receiving end when these two sides collided in Goa, thanks to William Opoku Asiedu's brilliant brace.
LNTUP analyses the performance of each and every player of both the teams and marks five players who can make a difference in the match.
Chencho Gyeltshen– Considered to be one of the best striker Bhutan ever had, Chencho is the wonderboy of Minerva Punjab FC. The 21 year-old can create havoc in front of the goal whenever he gets the ball. He has scored a goal for his team from three appearances. He will look forward to score his second against Arrows tomorrow.
2. Willam Opoku- The highest scorer for Minerva this season as well as I-League's top scorer, the Ghanaian forward is an example of sheer class. After finishing his stint for EFL Championship side Middlesbrough (was on loan to Levadia Tallinn), he signed for the Punjabi side. The 20 year-old has scored thrice in three matches, including two against Indian Arrows. He will look forward to tear apart the Arrows defense tomorrow.
3. Kassim Aidara- The 30 year-old Senegalese footballer is the main pillar for Minerva Punjab in midfield. He completely controls proceeding on the field for his side. He comes down to defend when his team is under pressure, and moves up to support in attack when required. A gem of a player, this Hamburg-born player has scored one goal and assisted thrice in four matches. His skills, agility, positioning and style of play will be worth to watch out for.
4. Aniket Jadhav-The make-up of Norton's 21-man squad contains one Aniket Jadhav, the one of the two faces (the other being Namit Deshpande) from Maharashtra in the team. The Kolhapur-born youngster is undisputedly one of the stars in the team with an unquenchable thirst for goals. The star striker created a havoc in the box for India in the FIFA U-17 World Cup. He has already scored twice for the Arrows in I-League. He is versatile and can play in any position the team needs him. His speed, skills and agility puts him in this list. He will be worth the one to watch out for.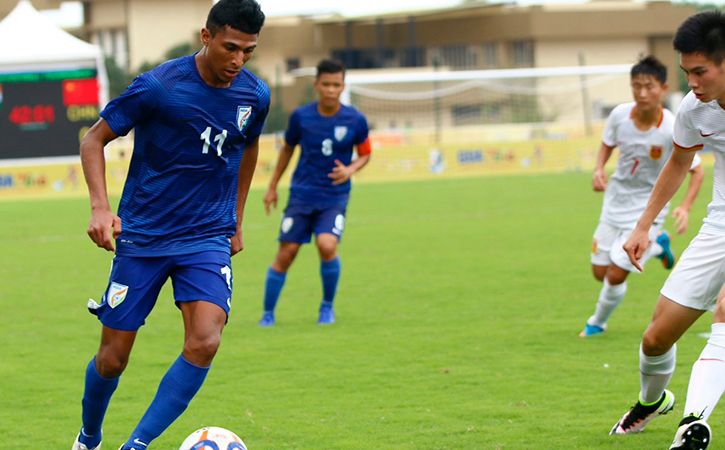 5. Boris Singh Thangjam- One of the best in business, Boris Singh is a class apart. His speed, skills and runs with the ball as well as without the ball are fascinating. The seventeen years-old has already scored a goal and assisted one this season. He can play as a side back as well as a wing half, but his defending skills have made de Matos play him as right back. He will a one to watch out for in the tie vs Minerva Punjab.