I-League: 5 Players to watch out for in the Kolkata Derby
The most awaited match in the history of Indian Football and one of the highest rated match in World Football- the historic Kolkata Derby is back to the Vivekananda Yuvabharati Krirangan after a long time, and it is time to get the facts correct before going into the match. Here, LNTUP predicts 5 players to watch out for who may make a big difference in the tie.
1. Mahmoud Al Amna – The Syrian International will play a vital role in East Bengal's midfield. In his first I-league match for the Red and Gold he impressed everyone with his dribbling and creativity. The most influential figure in the CFL triumph of East Bengal would surely put some pressure on Bagan defense unless Sanjoy Sen gives some special attention to the I-League winner with Aizawl.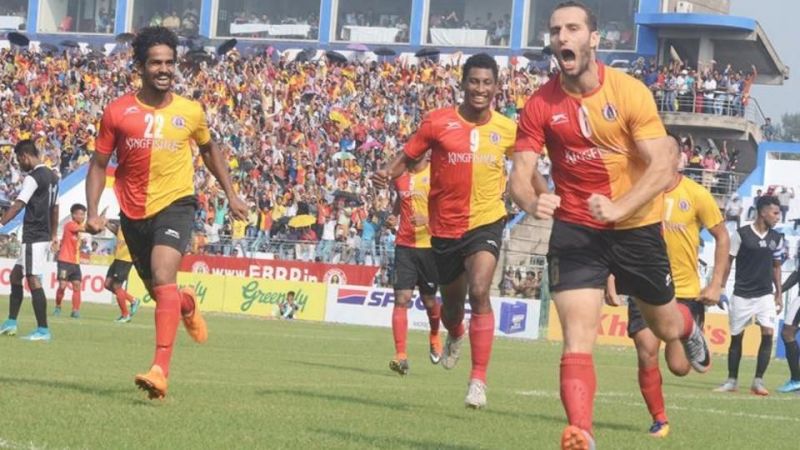 2. Katsumi Yusa – The Fukushima Bomber will face his former club in the first Kolkata Derby of I-league '17-18 season. He scored goal in his debut match for East Bengal against reigning champions Aizawl FC in their I-League opener. He also won the "Hero of the Match" award in his first match and showed signs that he has well gelled with his new team-mates and is seemingly all set to create nuisance in the shaky defence of his former side.
3.Sony Norde- The Haitian Magician is always a terror for opponents' defense. Last time when Mohun Bagan faced East Bengal in I-league it was Sony who ripped apart the EB defense. This player needs no more description why he is a threat to the rivals and Jamil would surely impose some tactics on him to stop him from getting the best out of himself.
4. Dipanda Dicka- The topscorer of Hero I-league last season will be playing for Mohun Bagan this season in the top flight. He is a goal poacher,who finds the back of the net almost whenever he gets a chance. His speed, power and shot accuracy will impose danger on East Bengal's defense.
5. Brandon Vanlalremdika- The 5'2″ Mizo was sensational in his I-league debut for the Red and Gold. He is quite speedy down the wings and created many chance for the Red and Golds against Aizawl. His performance in the CFL was also good and was an integral part of the starting XI under Jamil. East Bengal's wingplay will largely depend on this guy as the shift of wings between him and Katsumi will be something that would impose threats to the Bagan fullback.