How Kingfisher East Bengal FC may line up in I-League 2017-18
Kingfisher East Bengal will go into the I-League with a boost after their practice matches with the Super League teams. They do possess a strong squad and will look forward to end the 14-year long wait for I-League. They started their practice match tour against Bengaluru FC. Two matches were played between them, the first one ending at a 1-1 draw, the ISL side won the second one 3-1. After  the stuttering start at Bengaluru, they moved to Goa to face FC Goa. To the surprise of all, they defeated the ISL side 2-1 before losing to FC Pune City 2-1 at Pune. In their last practice match they defeated Jamshedpur FC 3-1 and will hope to carry that momentum in I-League.
Kingfisher East Bengal Squad:
Goalkeepers:
Dibyendu Sarkar: A class goalkeeper, this man is full of enthusiasm. A completely fit player, Dibyendu looks forward to get his first chance in the main team this season. He has been in form full season's training, but has failed to appear for the first team in any of the matches.
Luis Xavier Baretto: The first team main goalkeeper, Baretto is always a class to watch. Fearless, fit and an encouraging keeper is a need of every team, where Baretto fulfils East Bengal's needs. He has started each and every match in the Calcutta Football League for the Red and Golds and has been in an amazing form. The Goanese will look forward to hold his form and continue winning trophies with the Kolkata giants.
Mirshad Michu: One of the best goalkeepers who will play I-League this season. Not getting a chance in a single city-league match, this man was desperate to prove his class and did not fail to do so when he had the chance. He is more than just a keeper; he is East Bengal's sweeper-keeper, the last man. Courtesy to his excellent outings and world class saves, East Bengal defeated FC Goa and Jamshedpur FC in practice matches.
Hanumana: The Keralite is not a big name in the business but when it comes to do his job, he is not even an inch from the bests. He is new to the city and the club, but has got himself accustomed to ins and outs of the team. It will be the fans' pleasure to watch him in the I-League.
Defenders:
Deepak Kumar: A defender who plays in left back position. He had been playing for Mohammedan Sporting in the last couple of season till 2015-16. The left-back was impressive in the local league in 2015 and was the first choice full-back for the Black and Whites in the second division I-League also. Deepak joined the red & golds in June 2016, but has not appeared in a single game for them. He looks forward to snatch a spot on the first team this I-League.
Lalram Chullova Pautu: The first team left back, this 21-year old can play as a right back too. He has been clinical for Aizawl FC last season and was one of the main powerhouses of the Reds. He joined the Kolkata Giants this season before the local league and has performed exceptionally well there.
Mehtab Singh: The Centre back, an East Bengal Football School of Excellence graduate was an excellent addition to the East Bengal team in last season's u-18 I-League, but has failed to perform for the main team when it was his chance to prove him. Although he is in the team, it seems the gaffer is not too happy with his performance. But he has played exceptionally well in the practice match against Jamshedpur FC in the right back position.
Tanmoy  Ghosh: The ex-mariner player is an exceptionally well-built left wing back. He is an East  Bengal academy graduate of the 2013-14 batch. He signed for Mohunbagan and has performed well with them in CFL 2015. He signed for East Bengal in 2016 but did not appear in a single match until 2017 CFL. He will look forward to get a spot in the first team this I-League.
Rahul Ghosh: The EBFSE graduate was one of the main players that took East Bengal to the final of the u-18 I-League last season. The well-built defender can play a left back as well as a centre back. He is yet to appear for the main team.
Eduardo Ferreira: The ex-Mohun Bagan player looks forward to strengthen the rivals' squad this season. He was signed after West Indian Carlyle Deon Mitchell left with an ankle injury. Although last season with Mohunbagan started sloppily for him, he got back to his form and were the runners up of I-League 2016-17.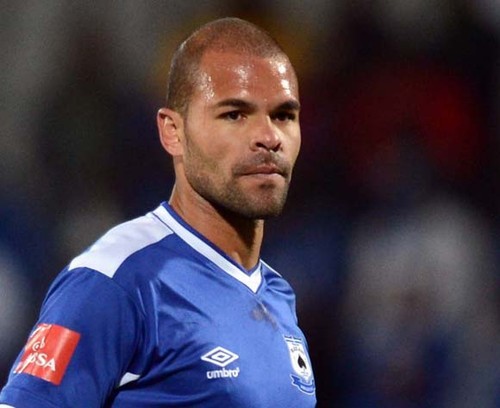 Salam Ranjan Singh: The stopper full back from Bengaluru FC can fit in any defensive position. He was an excellent addition to Bengaluru FC's squad last season and won the Hero Federation Cup with them. He looks forward to be the  regular right back to the red and golds this season.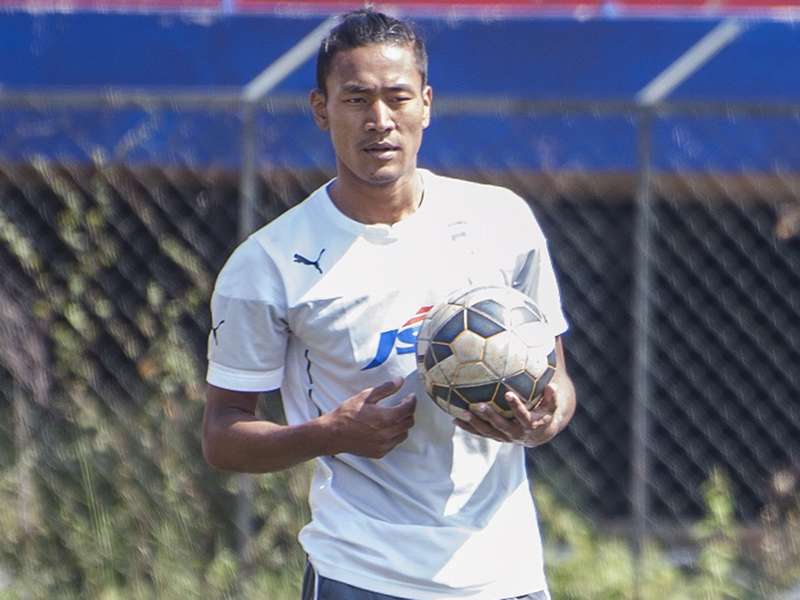 Arnab Mondal: The India International is a pleasure to watch to in each and every league. He has performed exceptionally well with East Bengal all these seasons, with ATK for the three seasons he played there and will be one of the most important additions to the team. He will captain his side this season.
Gurwinder Singh: Gurwinder blossomed in JCT academy and then started his career as youth player in JCT and was also a part of the 2006 Santosh Trophy winner Punjab squad. He joined the red & golds in the year 2010 and after a great season with Kingfisher East Bengal FC Singh was called up to the India national football team preparatory camp in June 2011. He continues to hold his form the rest of the season. He was voted East Bengal's player of the Year last season and has performed exceptionally well this season in CFL.
Kaushik Sarkar: The promising young centre back joined Sports Authority of India in 2010. He also played for Kalighat MS for one season before returning back to SAI. He captained the University of Calcutta football side during the Inter-University challenge. Despite not playing professional football, Sarkar was called-up to the shortlisted 40 player squad by India head coach, Stephen Constantine, in December 2015. On 27 December 2015, Sarkar made his debut for India in 2015 SAFF Championship match against Nepal, thus becoming the 503rd player to represent India internationally. On December 2015 Sarkar had signed a three-year contract with Kingfisher East Bengal. He is yet to start a match for the Kolkata giants.
Samad Ali Mallick: The right back from Budge Budge is now a big name in the business. His performance in The Calcutta Football League has said all about him. One of the best right backs to have ever donned the Red And Gold jersey, Samad will look forward to hold his form the rest of the season.
Midfielders:
Brandon Vanlalremdika: The 23-year old Mizo is one of the main reason behind Aizawl's success last season. His skills, speed, agility and fearlessness makes him so great. One of the most demanded left wingers, he is a perfect replacement for Bikash Jairu for East Bengal. He will look forward to carry his superb form in the coming I-League. His duo with Chullova is considered as the new Tom-and-Jerry duo of India.
Laldanmawia Ralte:  The ex Aizawl FC player is one of Khalid's favourite. He can play in both the wingers and can also move forward as a striker when the team needs him. He is an excellent addition to the team and will look forward to kep his spot in the team and continue his form.
Surabuddin Mollick: Another boy form Budge Budge, Mollick has always been an unsung hero. His capability to dribble past the whole defense of any team or run with the ball and crossing skills have always helped the teams he has played for. He played for Tollygunge Agragami last season in CFL before signing for Churchill Brothers in I-League. He was an excellent addition to the Goan side. East Bengal were impressed with his style of play and signed him this season. He performed amazingly well this season in CFL and looks forward to strengthen the squad.
Bidyasagar Singh: He was signed in East Bengal team for the u-18 I-League. His skills and goal scoring ability has forced the Club Management to sign him for the main team.
Yami Longvah: Another boy from the U-18 team, Yami has never failed to impress the East Bengal fans. Whenever he gets the ball, the opponent defense falls under immense pressure.He appeared twice this season for the Red and Golds and will look forward to be a starter this season.
Gabriel Fernandez: Another midfielder from Churchill Brother, Gabriel is full of enthusiasm. His skills, speed and ball-holding capability has made East Bengal sign him. Although he was injured at the beginning of the season, he came back and scored goals for the team whenever the team needed him.
Suranjit Telem: Signed the main team from the u-18 team, this guy can dribble past all eleven players in the ground. His skills are mind blowing. He was named East Bengal's Maradona after scoring a goal by dribbling past 10 players last season in u-18 I-League.
Nikhli Poojary: The India international is developing into one of the best Indian right backs. His performance last season has made te Red and Golds' coach bench star winger Romeo Fernandes. He was clinical dor India in the U-23 AFC Championship and has played exceptionally well in the only match he was available for East Bengal in this season's CFL.
Prakash Sarkar: A fan of the Midfield General- Mehtab Hossain, Prakash Sarkar loves to play from the deep midfield. His ball-holding ability is more than expected from an eighteen-year old. He was the main man who took East Bengal to the final of U-18 I-League last season. The way he has played in CFL this season is more than words can explain.
Md. Rafique: The best central attacking midfielder now in India, Md. Rafique is one of the best Indian additions to the squad this season. He is a regular starter for the team and has played some mind blowing football this season for the Red and Golds as well as the National Team.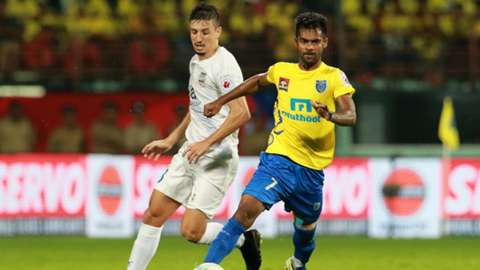 Mahmoud Al Amna: The Syrian is more than whatever one tells about him. He is the one defying age. The 35-year old is a class apart. Having 78 caps for Syria, he was called up for his national team for a friendly, but did not go because it was not a FIFA recognised match. One cannot get the ball when he is on the ball. And with such a body, he bulldozes past the opponent midfield into the defense. His performance won Aizawl the I-League last season and East Bengal the CFL this season. He scored 4 times in 9 appearances this season.
Bazie Armando: The cousin of present Gokulam FC player Bayi Kamo, Bazie Armando is an excellent footballer. He is a defensive midfielder and has performed exceptionally well for NBP Rainbow AC this season in Calcutta Football League. A familiar name in semi-pro leagues, Bazie is a very tough customer to beet in the midfield.
Katsumi Yusa: The ex-Green and Maroon midfielder is one of the greatest midfielders to have played in I-League. He is the number 10 in East Bengal too. He is an extremely important addition to the squad. He can play as a Central midfielder as well as a right midfielder too. His skills, speed, stamina and agility will boost the Red and Golds.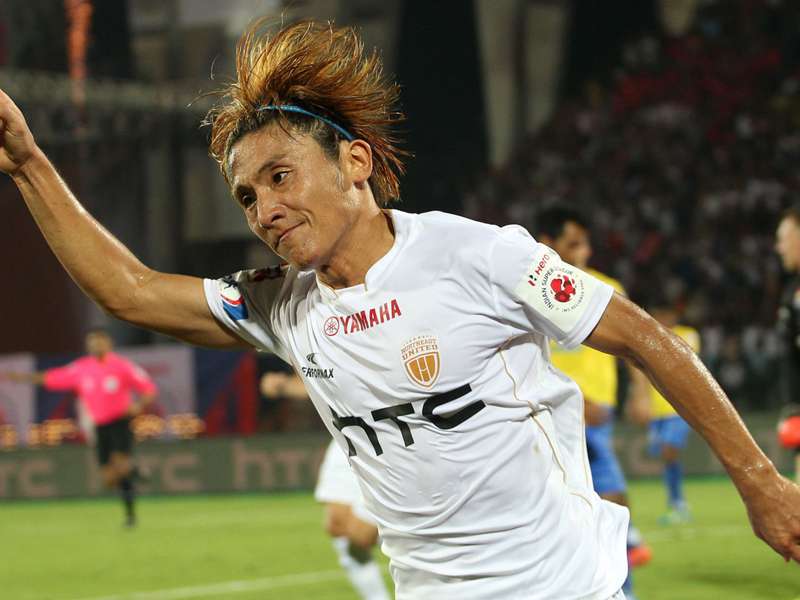 Cavin Lobo: A skilful Goan central medio, loves to play as an attacking midfielder too. He spent the last season on bench completely due to injuries, but is now completely fit and is ready to rock in the I-League.
Richard Costa: Another addition from Churchill Brothers, this Goanese likes to play from the deep midfield. It will be tough for him to get accustomed in the team, leaving Goan soil for the first time. But he is ready to prove himself for the Red and Golds.
Strikers:
Willis Deon Plaza: An in-form Plaza is always a dangerous customer to deal with in the box. Willis Deon Plaza, the number 9 of the Kolkata giants will look forward to tear apart teams in the upcoming I-League. He did not start the local league well, but came back to form and scored one hattrick and a total of four goals. He will be the main man to watch for in East Bengal's attacking third. His skills and speed will be a great addition to the team.
Charles D'Souza: The well-built Brazilian striker was an ex-Fluminese player which is enough to say about his class.  The twenty five year old striker scored 9 goals for Chennai City FC in 21 appearances last season. Last season when Chennai City defeated East Bengal 2-1, Trevor James Morgan had only one thing to say- "We didn't lose to Chennai. We just couldn't contain Charles. He defeated us." This season he will look forward to break his records and score as many as possible.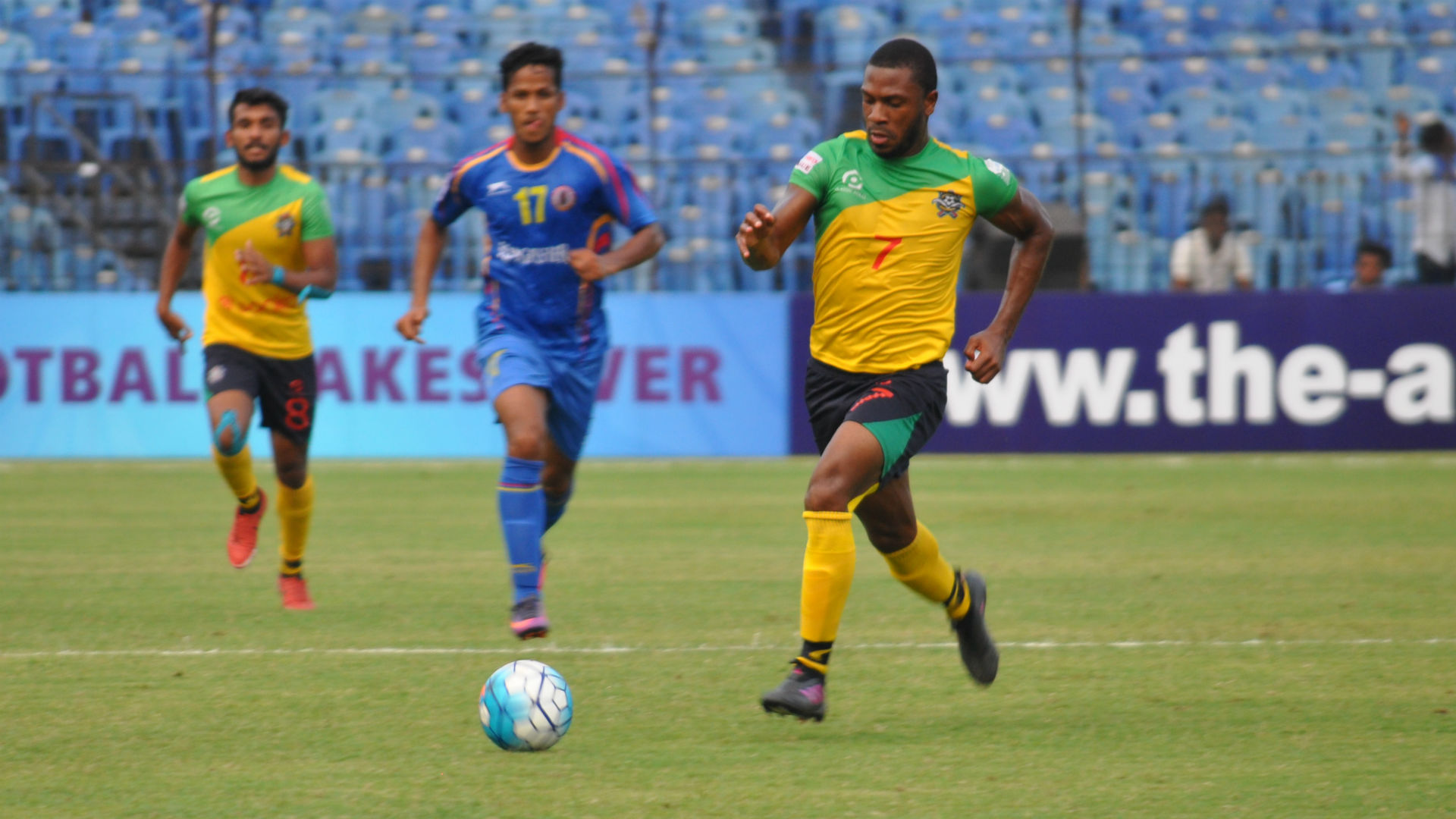 VP Suhair: The Keralite  was an United SC player, before East Bengal signed him in 2015-16. After Biswajit Bhattacharya did not give him a chance in the first team, he waited for a chance. In 2016-17, Trevor James Morgan was so unhappy with his performance at training, that he appealed the club management to release the player. But, the club didn't do so. This wasn't enough to break him down. He kept practising and finally, Khalid Jamil as gaffer, he became a starter at the Red and Golds. He will now look forward to start in the I-League for the Kolkata giants.
Jobi Justin: The Keralite is one of the brightest stars in the business. His skills and ball holding play has been compared to IM Vijayan's style of play. If he is given enough attention and nourished with care, he can be the best striker India has ever had.
This is how East Bengal may line up:
Predicted Line up 1:
Khalid Jamil's favourite formation 4-4-2, will help to play counter attacking football with the two active wingers. Amna can fall deep into midfield to help the defense while Yusa can surge upwards to help the attack. Plaza and Charles will together be a great attacking duo, one skillful and one powerful, while the defensive duo of Brazilian Eduardo and homey Arnab Mondal will be a wall in front of the goalkeeper. Chullova's duo with Brandon will be amazing. Salam Ranjan can play his defensive role and also move upwards to help in attack. A perfectly combined team, East Bengal will be one of the main contenders for the title.
Predicted Line up 2:
Another formation to help in counter-attacking football, Khalid Jamil would love to play this team. Tanmoy's speed would help him surge upwards and help in attack similar to Samad Ali Mallick. Gurwinder and Arnab together has played in the local league and previously in I-League too. The defensive duo has proved clinical each and every time they play together. Bazie has been put in the midfield to help the defense. He can connect the defense and the midfield completely. Amna will cover the full width of the field while Lobo can concentrate to help in the attack. Katsumi and Plaza both will love to utilise their speed and skills and will feed as many balls as possible to Charles. Charles though seems lonely will not be alone; Lobo will be coming up to help him. A completely balanced team, one of the best in business.
Predicted Line up 3:
An attacking minded formation would boost the team's morale. Khalid Jamil would love to play with such a formation. Dibyendu Sarkar would look forward to get his first chance this season. Chullova and Brandon's duo as usual will be important for the team. Eduardo and Gurwinder both loves no-nonsense defending. Salam can perform his defensive duties as well as feed Danmawia some balls. Bazie will fall deep into midfield to help the defense. Amna and Katsumi will be instrumental in the attacking midfield. They can move up to play as withdrawal forwards and help Plaza with the balls. Plaza as usual will be looking forward to tear apart defenses.