5 Talking Points of Man City vs Leicester Game
Premier League: 5 Talking Points of Man City vs Leicester Game
5 talking points from Manchester City's 2-0 win over Leicester City as the league leaders are showing no signs of slowing down
1.Record Win for City:
Manchester City equalled the Premier League record of 34 points from 12 games previously set by the Manchester City side that won the league in the 2011/12 season winning 34 points from 12 games they also broke their club record of 16 consecutive wins in all competitions.
2.City Are Tearing The League Apart:
Yesterday's victory saw Manchester City go 8 points clear at the top of the table and deservedly so,they were outstanding and well organised against Leicester City.They are still yet to lose this season and are clear favourites to win the league if their incredible run is anything to go by.
3. De Bruyne: The Best Central Attacking Midfielder In The EPL
Kevin De Bruyne is a different gravy,total class he proved once again why he's the Premier League's best in his position.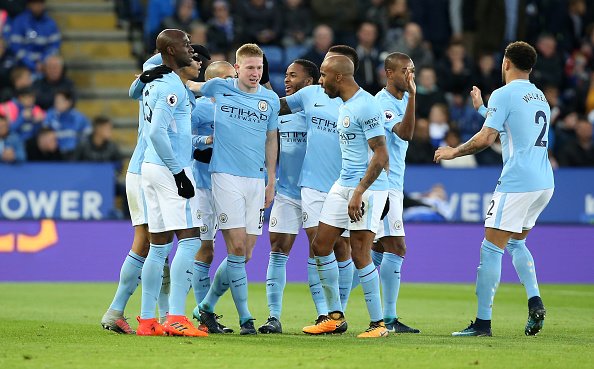 He scored a wonderful goal and conducted play being the Citizens'connection between defence and attack,a perfect man of the match performance.
4.Fabian Delph A Turn Around Product
The left-back turned Defensive-Midfielder is seemingly enjoying life under Pep Guadiola and is very key to Man City. His ability to read and cut counter attack play from Leicester City's quicky wings worked to the team's advantage,how wrong were those who thought Delph was City's weak link earlier this season.
5.Claude Puel Got It Wrong
Manchester City scoring was inevitable and what the Foxes could have done was apply more pressure up and search for an early goal than to seat back and attempt to defend.The gaffer lost it even before the game started by playing Vardy as a lone striker upfront with less support.Slimani should've been brought in as a foil for Vardy.