Peter Schmeichel: The Danish Wall
Peter Schmeichel
A Danish former professional footballer who played as a goalkeeper, and was voted the IFFHS World's Best Goalkeeper in 1992 and 1993. He is best remembered for his most successful years at English club Manchester United, whom he captained in the 1999 UEFA Champions League to complete the Treble, and for winning UEFA Euro 1992 with Denmark. Peter Schmeichel, today he is 54.
Early Life:
Born in the Søborggård parish of Gladsaxe, Denmark, to a Polish father and a Danish mother, Peter Schmeichel held Polish citizenship until 1970 when he, his father, and his siblings became Danish citizens. He inherited his middle name – Bolesław – from his great-grandfather. He spent his early years growing up in the town of Buddinge, Copenhagen, and began his football career playing for a team in the adjacent suburb of Høje-Gladsaxe.
Career :
He joined the youth system Hero, which then became Gladsaxe-Hero, and after graduating he was promoted to the first team. Between 1984 and 1987 he stayed with Hvidovre and then gave a start to his professional playing career joining Brøndby. There he played until 1991 and throughout that period Brøndby was thrice crowned Danish champion in 1987, 1988 and 1990. In 1989 they won Danish Cup and in 1991 they won Danish Superliga. He had a prolific period with the club and the IFFHS named Schmeichel the World's Best Goalkeeper in 1991.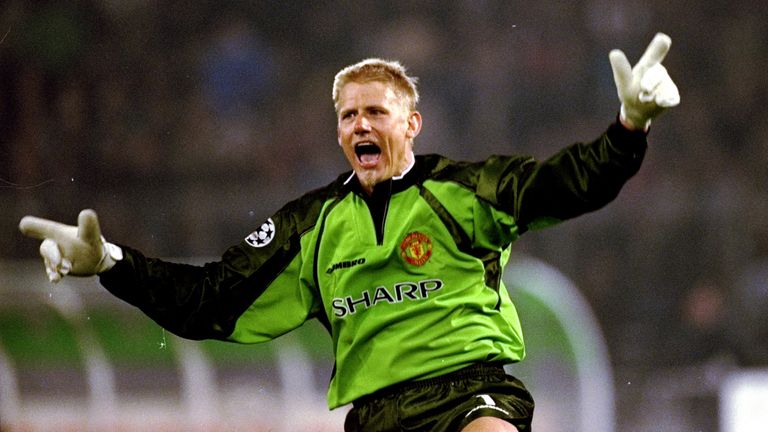 After that he moved to Manchester United for a fee of £505,000. Peter Schmeichel spent eight years with Manchester United and helped his side to win Premier League titles in 1992/93, 1993/94, 1995/96, 1996/97 and 1998/99. They won three FA Cup trophies, in 1991/92 they were Football League Cup winners. In 1991 Manchester United won UEFA Super Cup and in 1998/99 they claimed UEFA Champions League victory. Schmeichel proved himself one of United's best keepers.
🎉 We're wishing our former goalkeeper @Pschmeichel1 a happy birthday today.

Have a good one, Peter!#PartOfThePride #AVFC pic.twitter.com/QbcMpPX2J5

— Aston Villa FC (@AVFCOfficial) November 18, 2017
At the age of 36 he left England and signed for Sporting CP after the end of the 1998/99 season. There he played until the summer of 2001 and then had a season at Aston Villa, after which he played for Manchester City the last year of his playing career.
Schmeichel retired in 2002 and has worked on TV, being a pundit for the BBC, hosted live matches on the Danish TV channel, he was the host of Dirty Jobs on Discovery and had other activities.
Between 1987 and 2001 the son of Polish father and Danish mother earned 129 caps for the Denmark national team.
Style of play :
He has been described as a modern, talented, world-class, and complete goalkeeper, who also stood out for the longevity of his career. A tall, strong and physically imposing goalkeeper, with a large frame and long reach, as well as excellent reflexes, he was also extremely athletic and agile for a player of his size, and was known for his ability to cover the goal with his trademark "star jump" saves.
Achievements :
Club :
Brøndby :
Danish 1st Division (3): 1987, 1988, 1990
Danish Superliga (1): 1991
Danish Cup (1): 1989
Manchester United
Premier League (5): 1992–93, 1993–94, 1995–96, 1996–97, 1998–99
FA Cup (3): 1993–94, 1995–96, 1998–99
Football League Cup (1): 1991–92
FA Charity Shield (4): 1993, 1994, 1996, 1997
UEFA Champions League (1): 1998–99
UEFA Super Cup (1): 1991
Sporting CP
Primeira Liga (1): 1999–2000
Supertaça Cândido de Oliveira (1): 2000
A REMINDER:

Happy Birthday Peter Schmeichel 👑

He won 15 trophies with Manchester United and Euro '92 with Denmark.

One of the great goalkeepers! #GreatDane pic.twitter.com/O6Qey63221

— footballreminder (@footballremind) November 18, 2017
Aston Villa
UEFA Intertoto Cup (1): 2001
🎉 We're wishing our former goalkeeper @Pschmeichel1 a happy birthday today.

Have a good one, Peter!#PartOfThePride #AVFC pic.twitter.com/QbcMpPX2J5

— Aston Villa FC (@AVFCOfficial) November 18, 2017
International :
Denmark
UEFA European Championship (1): 1992
25 years ago today this happened🇩🇰🍾#Denmark #Euro1992 pic.twitter.com/JtGy3C2zTc

— Peter Schmeichel (@Pschmeichel1) June 26, 2017
Individual :
Det Gyldne Bur (Danish Goalkeeper of the Year): 1987, 1988, 1990, 1992
Danish Football Player of the Year: 1990, 1993, 1999
UEFA Euro 1992 Team of the Tournament
UEFA Goalkeeper of the Year: 1992, 1993, 1998
IFFHS World's Best Goalkeeper: 1992, 1993
Premier League PFA Team of the Year: 1992–93
Premier League Player of the Season: 1995–96
UEFA Club Goalkeeper of the Year: 1997–98
UEFA Champions League 10 Seasons Dream Team (1992 to 2002): 2002
English Football Hall of Fame: 2003
PFA England League Team of the Century (1907 to 2007): 2007
Premier League 10 Seasons Awards (1992–93 to 2001–02):
Overseas and overall Team of the Decade
Save of the Decade (vs. Newcastle, 21 December 1997)
Fantasy Teams of the 20 Seasons public and panel choice
Danish Football Hall of Fame
World Soccer: The 100 Greatest Footballers of All Time
Football League 100 Legends
Personal Life :
His wife Bantey and he, together have a son Kasper, and two grandchildren.
In addition to his goalkeeping ability, he was also known for his capacity to read the game, as well as his adeptness with the ball at his feet, and his distribution and ability to launch swift counter-attacks with his long and accurate throws and kicks. Unusually for a goalkeeper, he would often go up for corner kicks in the opposition's area when his team were trailing, and even scored 11 goals throughout his career.
Happy Birthday to the legend who made the goalkeeping so easy to watch.