ISL 2017/18: Kerala Blasters vs ATK Player Rating
ISL Match One KBFC VS ATK Performance Rating: Here's how your favourite players performed
The opening match of the Hero ISL was a goalless draw between ATK and Kerala Blaster FC. The match had its high times but did not reach the standard expected by the fans.
The individual player ratings of the teams are below:
Kerala Blasters FC:
Gk- Rachkuba 7.7/10
The Kerala No 1 was decent for the Yellow Army between the sticks. Quick thinking and great reflexes helped them keep a clean sheet.
Defense
1. Lakic Pesic – 7.85
The " Hero of the match" awardee was great for Kerala tonight. He was instrumental in linking up the play and was the best player on the pitch for quite some time.
.@KeralaBlasters' Nemanja Lakic Pesic's dominance in the backline ensured that @WorldATK's attackers did not get on the score sheet in Kochi!

Enjoy our Hero of the day! #LetsFootball #HeroiSL #KERKOL pic.twitter.com/xB8QMJrutN

— Indian Super League (@IndSuperLeague) November 17, 2017
2. Sandesh Jhingan – 7.7/10
The burly haired Indian international was in good form today.He gave a great performance
for a comparatively dull Blaster's team. He was a releif against aerial threats.
3. Rino Anto – 6.9/10 and Ruatthara- 6.4/10
Much was expected of the Blasters defence today but it was nothing spectacular. A few mistakes by Anto put Blasters into jeopardy for a few times.
Midfield:
Ongnam- 7.8/10
The midfielder was in fine form today and he orchestrated the play well.
Vineeth- 7.7/10
Oh Vineeth Oh Vineeth. What great performance by the boy today. He was an ever present threat to the ATK defence the whole match.
Courage Perkuson- 6.2/10
Pace. Real Pace. Courage was hard to defend against for the ATK defense because of his pace. He even knitted a great pass which got him the winning pass award.
Prasanth- 4.9/10
Prasanth is not in fine form right now. He needs a few days to get back to is form and help the team.
Jacki- 4.8/10
Jacki needs time to set. He needs to be coached. He has shown a couple of glimpses of talent but really needs to channel his potential.
Forwards:
Berbatov: 6.7/10
He was seen as a revival in the attack but seems like he needs more time to set into the team.
Ian Hume- 5.9/10
He was good in parts but needs real practice for finishing up the chances put in front of him.
Sifneos: 5.3/10
The lad still has time on his hand and can improve a lotfor their next fixture and be an impact on the game.
ATK:
Gk
Debjit- 7.82
Debjit can now boast about keeping a clean sheet against a Premier League great,as he saved Berbatov's
header with ease.
Defence:
Pereira- 8.3/10
The real rock at defence. ATK could not have needed a better rock. Keeping the tiger out of the way they
have managed a point.
Thorpe- 8.1/10
The real deal. His role was great and is worthy of praise
Figueras- 7.5/10
The Spanish defender was in fine form today and helped ATK keep a clean sheet.
Prabir- 7.2/10
Prabir has played well and will certainly do well. He was sloppy at times but then again, he is young and will improve significantly.
Midfielder:
Zequinha- 7.7/10
Thomas- 7.1/10
Lyngdoh- 6.9/10
Hitesh- 6.7/10
Nongrum- 6.2/10
Bipin-4.8/10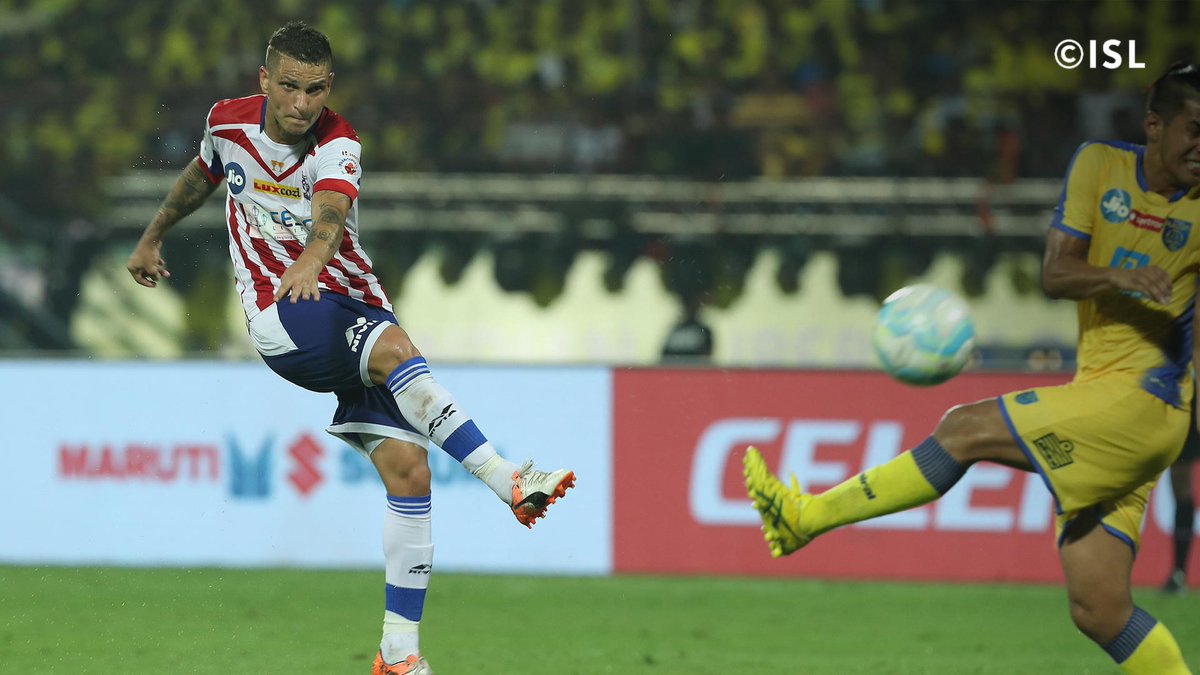 Attack:
Kuqi- 6.02/10
Disappointment may be a harsh word but mush higher was expected of both the defenders tonight. They were a fine but fans expected them to bury the ball in the net. In which, they failed.
Robin- 5.3/10