India's Blind Football Academy & Training centre
Indian blind football team
India's blind football academy & training centre it was located in kochi, where they are going to represent for Indian Blind football team. Now it has requests support to fundraise for the entry fees to participate in Asian championship as well as world cup qualifier at kerala from 9 to 18th December 2017 a chance to play in Asia & to gain experience & exposure.
About the Fundraiser
Acces to the sport, both for recreation and as a career is one of the key areas for the visually challenged has been a focus area for SRVC, Kochi to create an inclusive society. Development of Blind Football which is a paralympic sport in India has been taken up as an important goal with a mission to get India to the Paralympics by 2024.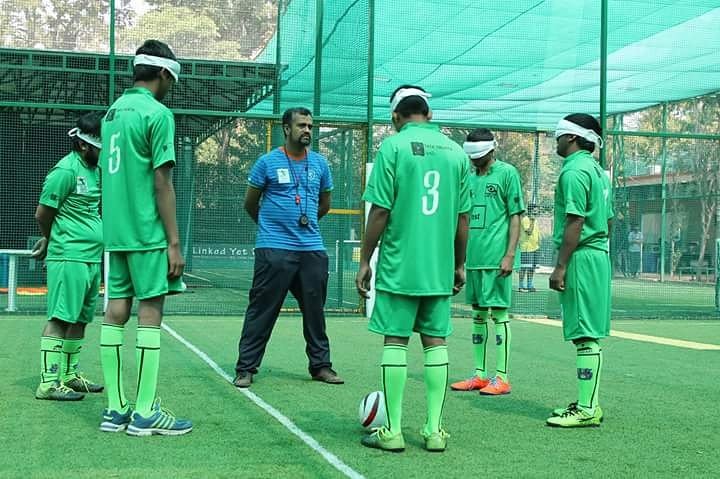 India has the largest population of visually challenged in the world with approximately 15 million. As opposed to Blind Cricket, has never been given the importance it deserves. Therefore SRVC. Kochi took the initiative to form a national team and develop it with the Paralympic Committee of India (PCI) in 2013 and presently ranks 23rd in the world.
Ever since then, SRVC has held grass root level orientation camps and talent hunt across the country, followed by training camps and tournaments involving international trainers and referees. The present team comprises of players from across the country including the North East (Meghalaya, Mizoram, Assam), Kolkata, Kerala, Delhi, Jodhpur, Uttrarakhand, Mumbai etc .
India's First Blind Football Academy
Our next immediate project is to start a full time Blind Football Academy to train and develop the best players to create a National Team of World Class standard. This will be the first ever exclusive Academy for the Differently Abled talents in the country to be based in Kochi.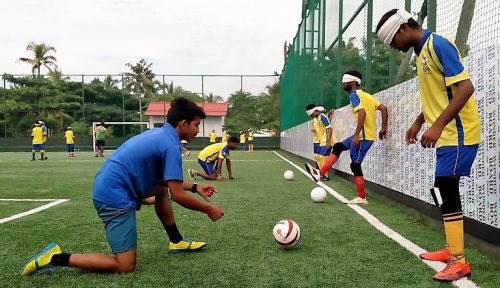 The players will also be given 'vocational skill training' in Computers and Foot Reflexology to ensure a parallel source of income when they are not engaged in matches, especially for those who do not end up successfully in pursuing football as a profession. The basic infrastructure which has a ground and hostel facility has been identified over the past year and the aim will be to provide round the year training supported by proper nutritional diet and fitness training. Those who wish to pursue their studies will be allowed to do so during day time by securing a transfer to local schools/colleges.
Our aim is to keep improving the game with the full time academy and thus better the performance of the national team consistently so as to qualify for the Paralympics by 2024. The costs for this Academy works out to :
3 Lakhs for the Ground setting up, initial equipment purchase
1 Lakh per month (10000 INR per month for each player)- incl stay, nutrition, gym access, ground facilities & equipment.
Total : 15,00,000 INR
The progress in the last 4 years is as shown below:
The First Indian National Blind Football team was formed in 2013 with the Paralympic Committee of India and Indian Blind Sports Association.
The Indian team, in their first ever International tournament in Bangkok in Aug 2013, entered the Semi-Finals and finished Fourth. The team played a Friendly Game in Malaysia with the host team, on its way to the International Five Nation Blind Football Tournament in Hong Kong in Dec '14. The preparations for the tour was done for a fortnight in early Dec'14 under an International referee coordinator.
In Jan '15, India was ranked 28th in the world as per IBSA (International Blind Sports association) rankings.
In Aug '15, the preparatory camp for Asian Championships at Japan (which was a Rio Paralympics qualifier) was held in Kochi by Mr. W K Loo from Malaysia, before the team went to Japan in Sept'15.
In Dec '15, Elias Mastoras from Greece, referee coordinator for major internationals including last Paralympics in Rio, conducted a referee coaching clinic for potential blind football referees in Kochi.
In Jan '16, India moved up to 25th position as per IBSA world rankings.
In Apr-May'16, All India Invitational Blind Football Tournament was held at Aluva Blind School with 86 Blind footballers.
In Sept '16, SRVC undertook a road show and blind football camp to Kolkatta and to the North East – Tura, Meghalaya, Guwahati , Shillong Imphal.
In Oct '16, The Indian Blind Football Federation (IBFF) promoted by SRVC to independently work for Blind Football in India and was affiliated by the Paralympic Committee of India (PCI) as the only recognized organisation to promote blind football in the country (enclosed in the Letter of Affiliation), for giving focused attention to the game.
IBFF conducted a second tour of North East in Oct'16 which had Mr W K Loo from Malaysia conduct a training camp for over four days in Shillong.
The First ever India International Blind Football Championship was held in Kochi from 1st to 4th Dec'16 which had Malaysia, Laos and hosts India participating. Malaysia won this tournament. Prior this, 18 players from across India were invited for the National Selection camp in Nov'16 conducted by Mr W K Loo
In Jan '17, India's world ranking rose to 23rd based on international matches played.
In Jan'17, a training camp was held in Aizawl followed by a mini North East Blind Football tournament in Shillong which had four
regional teams.
In Feb'17, Blind Football awareness camps were held at Kozhikode, followed by Mumbai and Kottayam.
The latest awareness camp and demo was in March '17 in New Delhi, for which Shri.Venu Rajamony was the chief guest.
Blind Football – Present Scenario Worldwide
Blind Football is well advanced in other countries with their national football federations supporting by providing infrastructure & training facilities .
There are more than 600 registered teams that play in Brazil – with a league system. Brazil are the World and Paralympic champions over the past 28 years. Argentina, England, Spain, Germany etc have also have 100+ teams playing and these countries are all ranked in the top 10 positions . In Asia, China, Japan, Iran, Korea etc all have progressed a lot as the game has been played for more than a decade. India is the only team in the Asian subcontinent that plays the game.
How Blind Football is Played
Blind Football is a 5-a-side game played in a Futsal ground of size 40 M X 20 M with the long sides blocked with sideboards. 4 players in a team are essentially totally blind with only the goal keeper sighted.
The 5 member team is assisted by a coach and a goal guide. The players are guided by the sound of the ball which has bells inside. The goal keeper, the coach (who runs along the sides) and goal guide (who stays behind the opposite goal) are the three sighted assistants who call out and direct the players to move with the ball. Each one of them has a distinct zone and they are allowed to speak or give directions only when the ball is in play in their respective zone.
Similarly, to avoid clashes, any player approaching the ball, except the person in possession of the ball, is supposed to call out "voy" (which means 'I am here') in frequent intervals so that the person with the ball can tackle them and move away.