ISL outfits outplay EPL sides in Global Digital Football Benchmark Analysis
Good news for the Indian football lovers, especially the followers of Indian Super League.
A recent study by RESULT Sports, an organization which works with Sports statistics reveal that ISL clubs are on par with many global football heavyweights as far as following in the virtual world is concern.
Global Digital Football Benchmark Analysis is a cumulative result of the following of the clubs in Facebook, Twitter, Instagram, Google+, Periscope and YouTube. In this ranking list Kerala Blasters FC features in the 80th spot, highest among all the Indian clubs. Atletico de KolkataKerala Blasters, the ISL side from the 'City of Joy' is in 94th spot making these two the of two Indian clubs to feature in top 100.
It's a big achievement for Kerala as they are ahead of the likes Glasgow Celtic, Athletic Bilbao etc. The two ISL franchises are ahead of some of the most prominent names of the top 5 European leagues.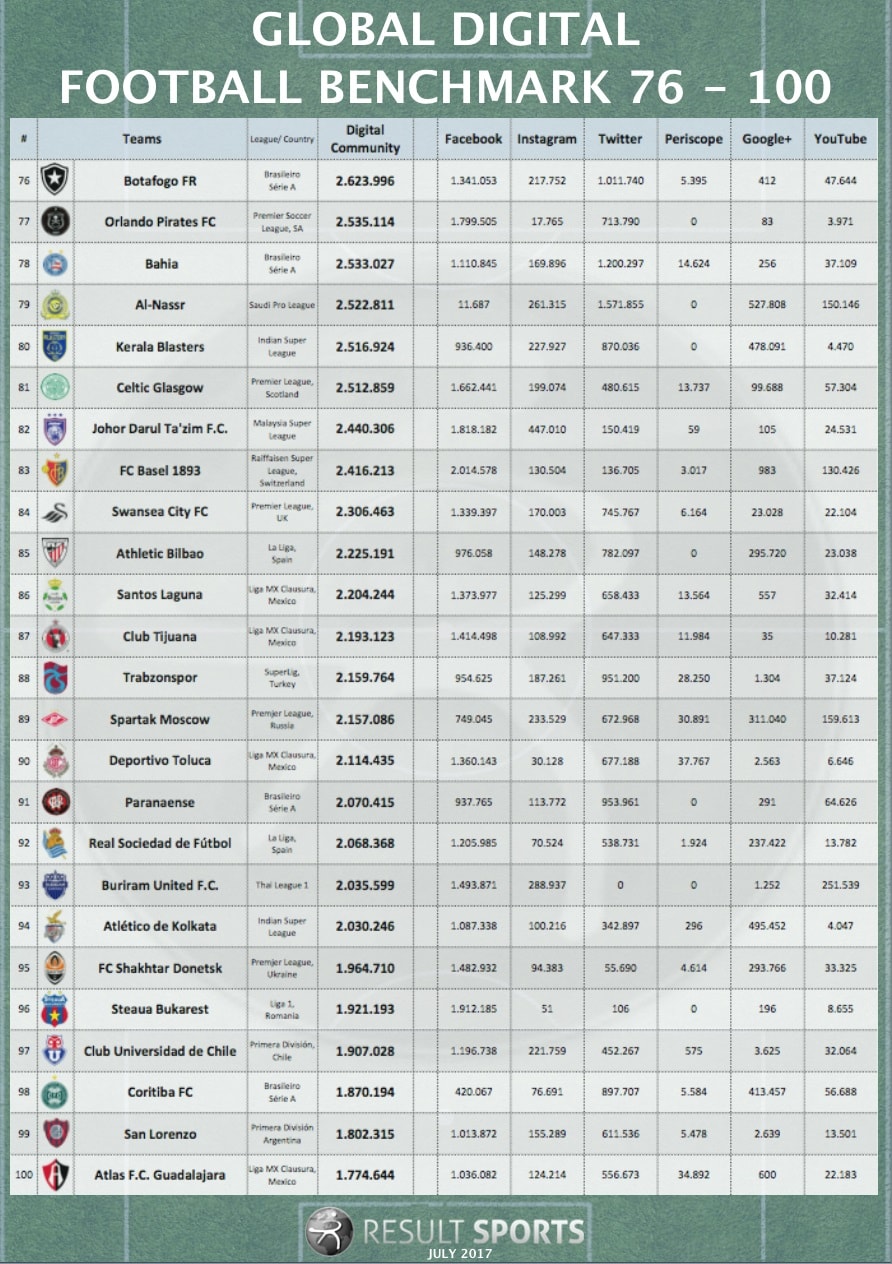 FC Barcelona has topped chart followed by their rivals Real Madrid. Manchester United, Chelsea, Arsenal, Bayern Munich, Liverpool, Juventus, PSG and City are the other eight clubs in the Top 10 serially.
Galatasaray is the first club out of the top 5 European leagues to find its place while Corinthians is the first non-European club to feature in the list at 15th. Al-Ahli of Egypt and PERSIB Bandung of Indonesia have also found their places in the top 20, residing them at the top of their respective continents.
Mario Leo, the founder of RESULT Sports said,"The Global Benchmarking Study fulfills two critical aspects. First of all, it provides a single source to compare teams of different continents, and shows where the global Digital media leaders stand…..while many only focus on the follower and engagement side, you have to also understand what the impact of communities and usage means for the technology platforms themselves."
This statistics will act as a boost to the Indian clubs, especially ISL as a whole. The results clearly point it out that although in real world, some of the I-League clubs inspite of being on par with their ISL counterparts has failed to reflect it in digital world due to lack of plans arising from not considering it important enough.
While the ISL franchises are taking large and well-planned strides to make them known internationally, the I-League clubs are failing to do it only due to lack of proper professional approach required in modern day football.