Champions league final,2016/17 tactical analysis
Photo: Alexander Hassenstein/UEFA via Getty Images
Champions league final,2016/17-tactical analysis.How Real Madrid beat europe's best defence?
Real Madrid won the UEFA Champions league 2016-17 thanks to goals from Cristiano Ronaldo, Casemiro and. Let us see how Real Madrid managed to score four past the team which conceded just 3 in the whole tournament before the final.
Real Madrid started with 4-3-3 formation. Unlike the formation, Ronaldo was more of played as striker than a winger in the game. Benzema sometimes supported Ronaldo and at times drifted wide. Modric and Kroos were central midfielders and Casemiro playing the pivot role. Juventus played 3-4-3 formation. They defended with 4-4-2 and sometimes with 4-3-3.
First half analysis
In the first half, Juventus started brightly as the midfielders Pjanic, Khedira closed down Madrid midfielders and marked them very well. Real Madrid were also pinned down in wide areas.
Pjanic and Khedira were after Modric,Kroos and Casemiro. Mandzukic dropped deeper to help out the two midfielders in closing Real Madrid midfielders down. This prevented Real Madrid from creating chances from midfield in the first half and they weren't able to penetrate through Juventus' midfield, whenever they tried to do, they lost the ball. And whenever Juventus won the ball back, they counter attacked with Sandro and Alves on the wings with Higuain, Dybala and Mandzukic taking their places in and out of the box.
Real were lucky as they didn't create anything but managed to be clinical to score their first goal from the counter attack. Juventus afterwards managed to score the equaliser from Mandzukic deservedly as they were the better team. Sandro stopped Caravjal from getting into dangerous positions on the right wing and sometimes got help from Mandzukic. Similarly Alves tried to close down Marcelo on the left hand side of Real Madrid. Marcelo is a very good player going forward, hence Barzagli helped him out as well.
Also Juventus created blocks in the cntre of midfield with 4 midfielders and 2 forwards and sometimes 3 midfielders and 3 forwards. Real Madrid were flat in the 1st half, failing to keep and pass the ball in the Juventus' block!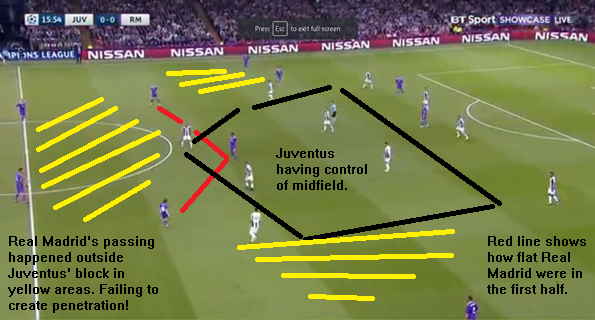 Second half analysis
Juventus pressed with energy in the 1st half while Real didn't. So Juventus players were more tired and on the other hand, Real Madrid saved their energy to press high in the 2nd half.
Dani Alves and Alex Sandro looked more tired as Real Madrid capitalised on their tiredness, Marcelo created lots of problems in the left flank as Alves wasn't able to close him down or contain him. Similar things happened in the right flank as Juventus left lots of gaps in Real's right-hand side.
For the Real's 3rd goal Modric and Carvajal capitalized on Sandro's tiredness in pressing as Juventus looked sluggish in the second half, Sandro failed to stop Modric he was through for the cross which Ronaldo scored from. This time Real created 2 on 1 with Modric and Carvajal on the right-hand side. Juventus kept on to struggle to deal with Madrid's attacks from wide areas.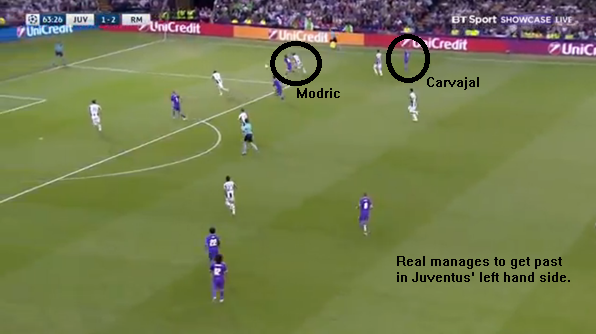 Real's 4th goal in which Ronaldo provided the cross occurred in a very similar way. Real Madrid pressed high in the second half, in hope of winning the midfield battle Juventus tried to put pressure as well but they went to become more tired. And at times made mistakes in midfield by giving lots of pockets of spaces to help Madrid midfield create passing and shooting channels through the middle.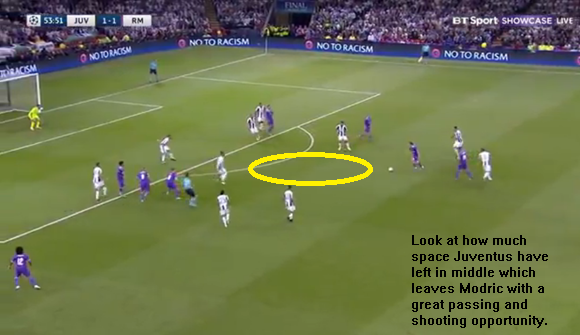 Zidane changed the tactic in the second half as Real Madrid took control of the midfield, Isco dropped deeper, Benzema also became a sort of attacking midfielder to create overloads which helped Real Madrid with 5 midfielders at times. It dragged Juventus players out of positions and made their pressing even worse.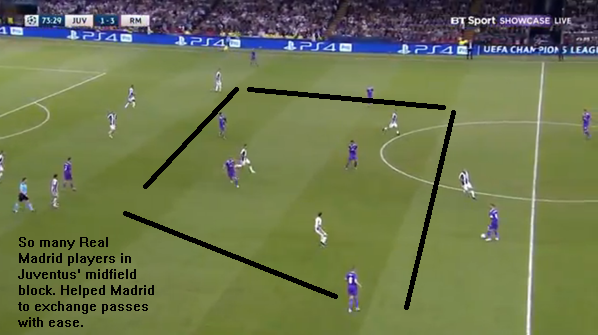 Real Madrid dominated the game in the second half. Juventus with their tiredness and individual defensive and midfield mistakes ended up conceding 3 goals in the second half and losing the game 4-1. Juventus brought on Cuadrado in the second half to give fresh attacking option but Marcelo still wasn't that much tired to give Juventus any sniff and Real went on to win the game!