Mohammedan Sporting in talks with Mehtab Hossain
Photo: AIFF
Mohammedan Sporting is in the mood of providing serious challenge to other clubs in the upcoming Calcutta Football League, atleast by their recent activities in the transfer market is indicating so.
The Black and White brigade of Kolkata has roped in some of the most prominent names in Indian football defying the challenges of other clubs. They have already signed the top scorer of last I-League – Dipanda Dicka from Shillong Lajong which created shock waves in Indian football. The club officials have reportedly struck deals with Kingshuk Debnath and Bagan's I-League winning skipper Shilton Paul as well.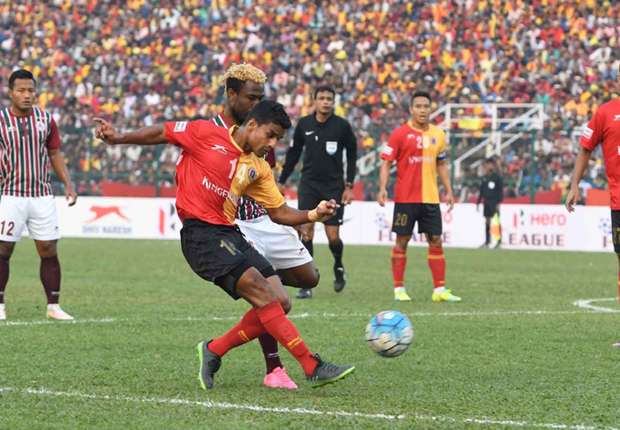 But they are again preparing to make a headline-making move by tying knots with East Bengal legend Mehtab Hossain. Although everything is proceeding underground but according to sources it is clear that the Mohammedan officials have already had talks with Mehtab and has also offered him a ludicrous deal.
Mehtab Hossain who has been playing for the Red and Gold brigade for the last ten years has become an integral figure of the side, someone with whom the East Bengalians identify themselves.
The player developed him as one of the best defensive midfielders in Indian football under the coaching of some of the most prominent names and also proved to be a priced asset for Kerala Blasters franchise under Terry Phelan and Steve Coppol over the last couple of years in Indian Super League.
In a surprising announcement before the last season, Mehtab said that if he would fail to give East Bengal the I-League trophy this year then he would part ways with the club. After finishing third in the league, the future of Hossain is in dark clouds.
He recently also said that if he remains in a club in West Bengal then that would be none other than East Bengal. But with the recent series of events, the Mohammedan officials have seemingly made it tough for Hossain to keep his words intact.
Only time knows what's in the stock of future, but the pursuit of Mehtab by Mohammedan has made it clear that the upcoming CFL is not going to be a walk in the park for East Bengal by any means.